Oval Pharmacy Prescription Club: 1 Card — 2 Benefits!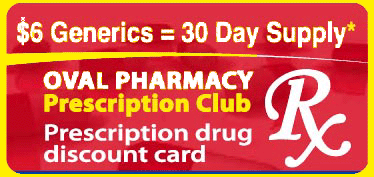 We are committed to providing you with the highest level of service, so you'll always choose us for your medication needs
​​For most people, who are uninsured or medications which are not covered by your plan, Oval Prescription drug discount card can help you save money. We genuinely care about your health and this is our sincere effort to make medications affordable to you. Our first-time customers continually become our long term customers time and time again, choosing us for all their medication and home care needs.
EARN POINTS & REDEEM $$$ WITH LOYALTY CARD.
SAVE ON 300 GENERICS AND 5000 BRAND DRUGS WITH OUR PRESCRIPTION DISCOUNT CARD.
NO INSURANCE - NO PROBLEM
JOIN OVAL PHARMACY PRESCRIPTION CLUB!
*DISCOUNT ONLY-NOT INSURANCE. Not valid for state or federally funded prescription plans. Program details and pricing subject to change. Discounts will vary by prescription. Flat fee prices may not apply to all manufacturers. You may cancel your registration under the Oval Prescription club at any time by contacting the Pharmacy.